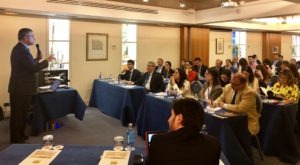 Recently, the VIII International Conference on Corporate Compliance was held in Madrid,on April 25th and 26th, in which Escura participated, among other professionals.
Fernando Escura, partner-director of the Firm, and Xavier Ferretjans, from Binaura Monlex, gave a presentation on the "Keys to the new General Data Protection Regulation".
The conference was dealt with different technical and legal issues, as well as other practical aspects, such as risk analysis and security measures.
The aim of the Conference was to present the fundamental changes between the new legislation and the old one, as well as to make known in greater detail the practical impact that it will has for the companies in terms of the prevention of criminal liability.
During the Conference it was highlighted the main novelties of the new European Regulation, including the abolition of the obligation to register files and the significant value of sanctions, which can amount to up to 2% of the company's turnover in the case of light fines, and up to 4% in the case of serious fines.
This Conference had brought together the best international professionals on Corporate Compliance to tackle the key aspects and the current challenges of this changeable and important field.
Escura is one of the most renowned firms in Barcelona, founded in 1905. Our service is customer-centric, coupled with high ethical and quality standards. Our long tradition of service has made us a benchmark law firm of many business associations.